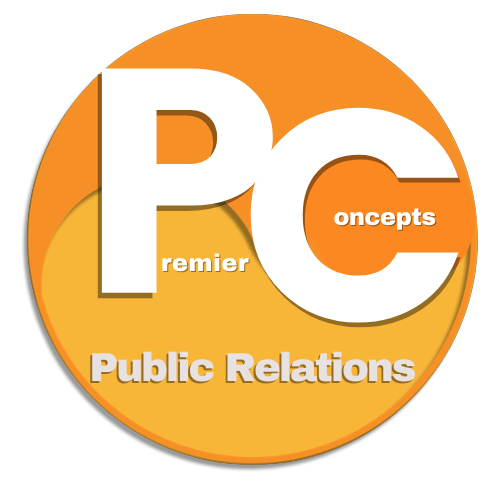 Small Agency Service. Big Agency results.
Premier Concepts PR is a full-service firm specializing in National publicity campaigns and Event productions for Celebrities, Professional Athletes, Non-Profits, Authors, Elected Officials and Lifestyle Brands.

To accommodate our ever-growing clientele, VIP Life & Business Coaching services were added to provide clients with discreet, one-on-one experiences and amazing results.
With 20+ years in Public Relations, our solid relationships with key editors and talent bookers can get you noticed through traditional & digital news sources across all media platforms.
Appearances on broadcast, print, online, and radio are essential to any publicity campaign. Our working relationships with journalists allow us to generate visibility and make an impact where its most needed for our clients.
Small Businesses, Non-Profits, Corporations and Celebrities host special events throughout the year for various reasons. Let us help you book VIP talent & entertainment, design your event, suggest venues, identify sponsors, and create a Publicity plan.
Over the years, we have secured A-list talent, VIP's and influencers to attend/perform for Red Carpet events, Grand Openings, Jazz & Film Festivals and Non-profit special events. With our industry relationships and proven track record, securing talent for your special event will be in good hands.
With our VIP services, PC handles everything from booking, coordinating logistics, transportation to travel needs plus onsite white glove service handling talent and their reps.
Whether you are a new entrepreneur, small business owner or non-profit, Premier Concepts will suggest business solutions and tools that help produce optimal results. We can help you with many aspects of building/rebuilding by creating a plan of action and goal implementation.
Outreach to clients and manage your business more efficiently and increase sales. Social Media awareness is a key component to have visibility survive in the digital world.
"I cannot say enough about Lisa and the Premier Concepts brand. She designs the strategies to fit your desired outcomes. Her timelines are aligned with your expectations and her follow through is very consistent. She is delightfully engaging and uses her vast industry knowledge to accomplish the task. Her no-nonsense approach to getting to "yes", makes her one of the best in the business."
Kim Estes
EMMY Winner, Actor
"Lisa is a blessing from up above. I am so blessed to have a knowledgeable, talented, resourceful Publicist/Manager who ALWAYS gets the job done. Lisa truly believes in her CLIENTS and she always speaks to truth. Seeing her at work exemplifies Greatness, and MAGIC."
Malika Blessing
Actress
"Lisa is wonderful to work with! She is an expert publicist and a great friend. I am so proud of her accomplishments. It was a great experience working with her. I partner with Lisa on projects for my clients and it has been a great working relationship. Keep up the great work Lisa!"
Monique Smith
MSPR/PR Specialist
"Premier Concepts PR is my go-to company for all things having to do with Public Relations. I've had the pleasure of working with Lisa Humphrey for over a decade. She knows how to handle all levels of celebrity talent with delicate care and discretion."
LaTonia Robinson
Actress, Model, Producer
"Lisa is amazing!! As a PR Queen and a great all around professional. Her work is an example of her excellence and I am looking forward to continuing to watch her success and growth personally and professionally!"
Princess Monique
Princess Monique Filmz
"Lisa is awesome to work with!!!! Because of her I was able to land one of the biggest jobs of my life!!!! She has helped me launch my career!!!! You can't go wrong with her!!!!!!!"
Bert Baker
CEO
"Lisa Humphrey is an exceptional PR professional. From the day I met her she has exuded professionalism and a standard of excellence in her work that is extremely commendable. She is a woman of integrity with an amazing work ethic and I am happy to call her a friend as well as colleague."
Octavia Bostick